BY NAVEENSANCHAR ONLINE
KATHMANDU, NEPAL
Pakistan's cultural heritage dates to more than 5,000 years ago, to the period of the Indus civilization. However, the emphasis on Islamic ideology has brought about a strong romantic identification with Islamic culture—not only that of the Indian subcontinent but of the broader Islamic world. Literature, notably poetry, is the richest of all Pakistani art forms; music and, especially, modern dance have received less attention. The visual arts too play little part in popular folk culture. Painting and sculpture, however, have made considerable progress as expressions of an increasingly sophisticated urban culture. Taxila, Pakistan: Dharmarajika stupa.
Eid al-Fitr in Pakistan
Pakistan shares with the other parts of South Asia the great Mughal heritage in art, literature, architecture, and manners. The ruins of Mohenjo-daro, the ancient city of Taxila, and the Rohtas Fort of Shīr Shah of Sūr are but a few of the places in Pakistan that have been named UNESCO World Heritage sites. The Mosque of the Pearls, Badshahi Mosque, and Shalimar Garden, all in Lahore, are among the country's architectural gems.
Bhangra
Popular traditional folk dances include the bhangra (an explosive dance developed in Punjab) and khatak steps. The khatak is a martial dance of the tribal Pashtuns that involves energetic miming of warriors' exploits. There are a number of traditional dances associated with women; these include a humorous song and dance called the giddha, a whirling dance performed by girls and young women called the kikli, and a form in which dancers snap their fingers and clap their hands while bounding in a circle. The luddi is a Punjabi dance usually performed by males, typically to celebrate a victory—formerly victory in a military conflict but now in a sports contest.
Music has long been a part of Pakistani culture, and the country was greatly influenced by the northern Indian tradition of Hindustani music. Traditional and local styles abound. The ghazal, a type of romantic poem, is often put to music. Ghazal singers such as Mehdi Hassan and Ghulam Ali have developed a broad following at home and abroad. Qawwali, a form of devotional singing associated with Sufism, is also widely practiced and has influenced a number of popular styles. One of its greatest adherents, Nusrat Fateh Ali Khan, became famous in Pakistan and the broader world. Traditional instruments include the sitar, rabab (a fiddlelike stringed instrument), and dhol (bass drum).
Western-style popular music has been slow to develop in Pakistan, although by the early 21st century there were a number of singers, both men and women, who were considered to be pop stars. Among these were the sibling duo Nazia Hassan and Zoheb Hassan, the crooner Alamgir, and the rock bands Vital Signs and Junoon, a group whose music was inspired by Sufism.
Poetry is a popular rather than an esoteric art, and public poetry recitations, called mushāʿirahs, are organized like musical concerts. Sir Muhammad Iqbal, one of the major forces behind the establishment of Pakistan (though he died a decade before the country's founding), was a noted poet in Persian and Urdu. Pashto, Urdu, and Sindhi poets are regional and national heroes.
Traditional Punjabi theatre was generally a venue for lower-class street performers and tended to be of a comic, slapstick variety. Commercial theatre in northern India and Pakistan, however, did not appear until the mid-19th century, and then largely in the Urdu language and among the Parsi community. After partition most professional actors, directors, and writers in the Muslim community gravitated toward the theatre and cinema of India (one important exception being the renowned actress and singer Noor Jehan). The cinema is the most popular form of entertainment in Pakistan. Many feature films are produced each year, mostly in the Punjabi and Urdu languages, and Pakistanis have developed a devotion to movies produced in India despite the political differences between the two countries. Other noted film stars are Sultan Rahi (Sultan Muhammad) and Mohammad Ali and his wife, Zeba. The songs and music used in Pakistani films have a distinctive character and are often reproduced on records or digital discs and broadcast on the radio.
Cultural institutions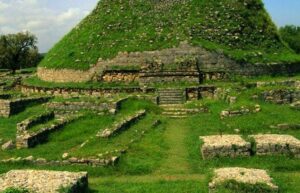 Taxila(an important archeological site in located in the Rawalpindi district of Pakistan's Punjab province)
Pakistan's long and rich history is reflected in the number of fine museums found there. The Lahore Museum (1894) has a splendid collection of arts and crafts, jewelry, and sculpture from various historical periods. The National Museum of Pakistan, in Karachi (1950), has a number of galleries, which include displays of objects from the Indus civilization and examples of Gandhara art. There are a number of archaeological museums and several private museums with specialized exhibits. The Taxila Institute of Asian Civilizations (founded 1997) was merged administratively with Quaid-i-Azam University in Islamabad in 2007. The National College of Arts (founded in 1872 as the Mayo School of Industrial Art) in Lahore is the only degree-granting institute of fine arts in the country. There are several private art galleries located in larger cities.
---